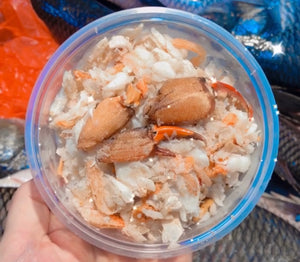 FROZEN
BOX [ 180-200G ]
peeled crab meat that has been par cooked making them super convenient item to use. The meat of this crab is very sweet and delicate suitable for any cooking style! what we recommend is to use them for pastas or even our local favorite CHILI CRAB but the sauce version giving us a easier way to enjoy chili crab.
There are too many ways for you to use this item, give this a try!
providing fresh seafood delivery in Singapore islandwide delivery from 11-5pm with free delivery for purchase $60 and above, below that will be a $10.