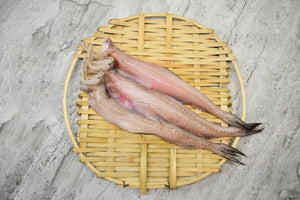 Caught from:Indonesia                                       WILD CAUGHT FRESH! 
900-1kg each packet
Bombay duck, this fish may look very scary but don't be afraid of it. It actually taste very good the flesh of the fish is firm and and has the fragrance of smelt fish when deep fried. If you like smelt fish you should try this bombay duck, once you deep fry it everything becomes edible!
Do note that weight range provided is the gross weight of the product, all products will be descale and gutted for convenience  
providing fresh seafood delivery in Singapore islandwide delivery from 11-5pm with free delivery for purchase $60 and above, below that will be a $10.