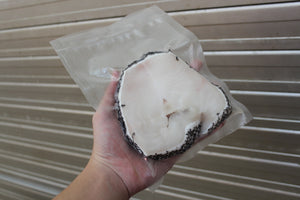 450-500g cod steaks comes in 2 steaks 
With the sweet and rich taste of the flesh it is the perfect choice for any type of cooking style be it steaming or frying, cod fish is a very versatile fish once is never enough 🤭. Hence one set comes with 2 steaks super worth it, don't worry if you can't use both you can keep another steak as we vacuum packed it to retain all its freshness too!!
 Do note that weight range provided is the gross weight of the product, all products will be descale and gutted for convenience  
providing fresh seafood delivery in Singapore islandwide delivery from 11-5pm with free delivery for purchase $60 and above, below that will be a $10.