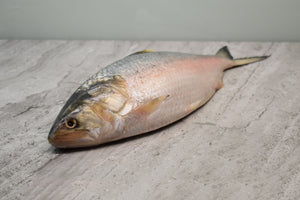 Hilsa fish also known as ilish, is one of the most exclusive fish you can ever get. The fat to flesh ratio of this fish is outrageous it literally melts in your mouth, this is a must try for seafood lovers you will understand why people will pay a high price for it. 
Cooking methods for this will be grilling it or even steaming them serving it with chilli black sauce, you can also use it to make Curries. 
*NOTE* 
be cautious when consuming this fish as there are fine bones in the flesh, slowly eat this fish to enjoy its flavor.
Do note that weight range provided is the gross weight of the product, all products will be descale and gutted for convenience
providing fresh seafood delivery in Singapore islandwide delivery from 11-5pm with free delivery for purchase $60 and above, below that will be a $10.