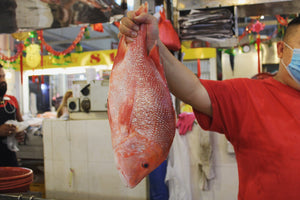 Caught from: Indonesia                                      WILD CAUGHT FRESH! 
Whole [ 900-1kg ]
Red emperor snapper, the best fish for cooking curry because of its texture it tends to hold on to the shape when cooked longer and also the flesh absorb flavors really well!! Only a true fish lover would use red emperor to cook curry an item you must 
Try when cooking your next batch of curry!!!
 Do note that weight range provided is the gross weight of the product, all products will be descale and gutted for convenience  
providing fresh seafood delivery in Singapore islandwide delivery from 11-5pm with free delivery for purchase $60 and above, below that will be a $10.